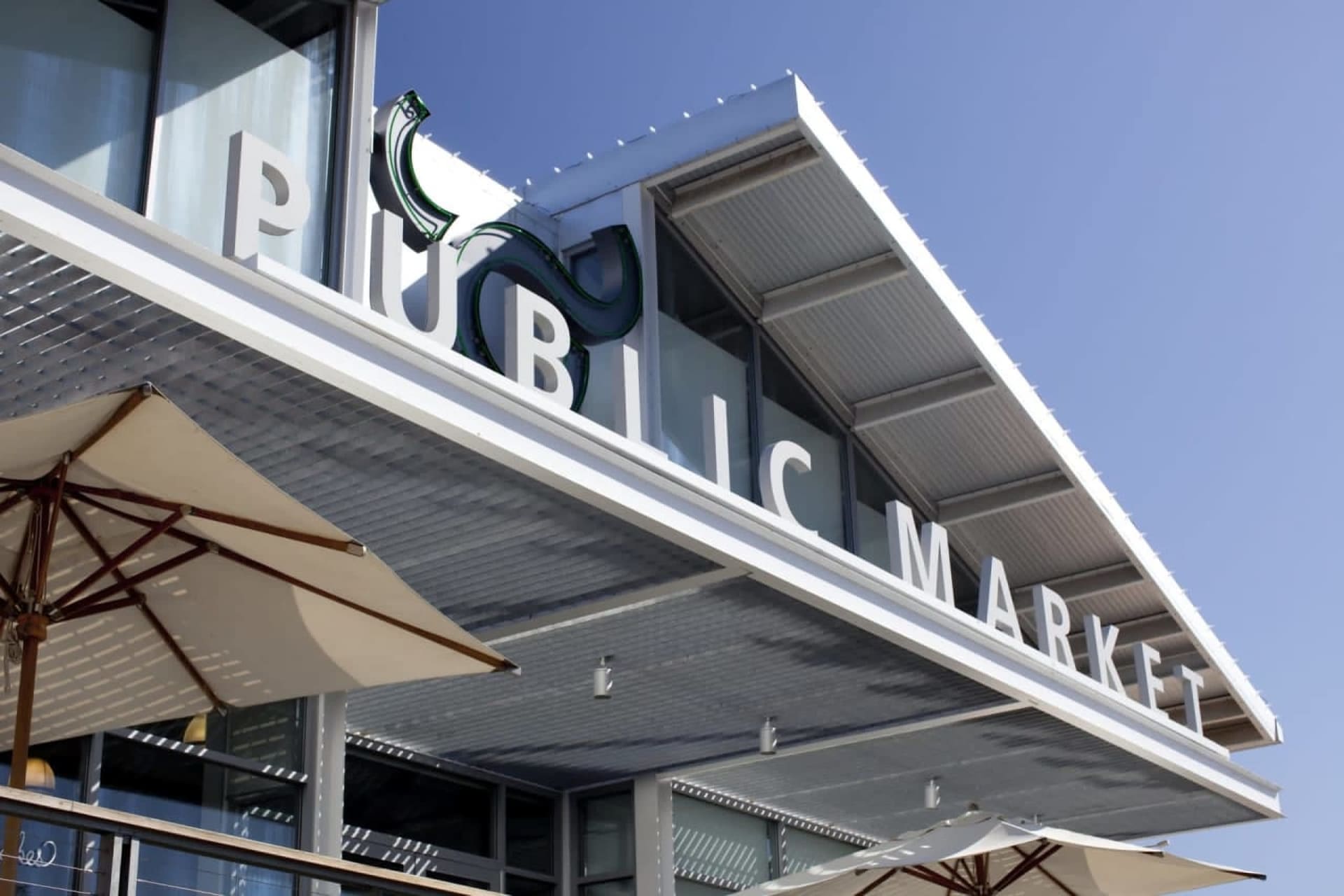 Napa Valley is a mecca for everything food and wine so you may be wondering where the locals go to gather ingredients for their culinary creations when cooking at home. As a Napa local, gourmet, and avid home chef I have compiled a list of Napa Valley's go-to specialty shopping spots for all of your culinary needs.
Oxbow Public Market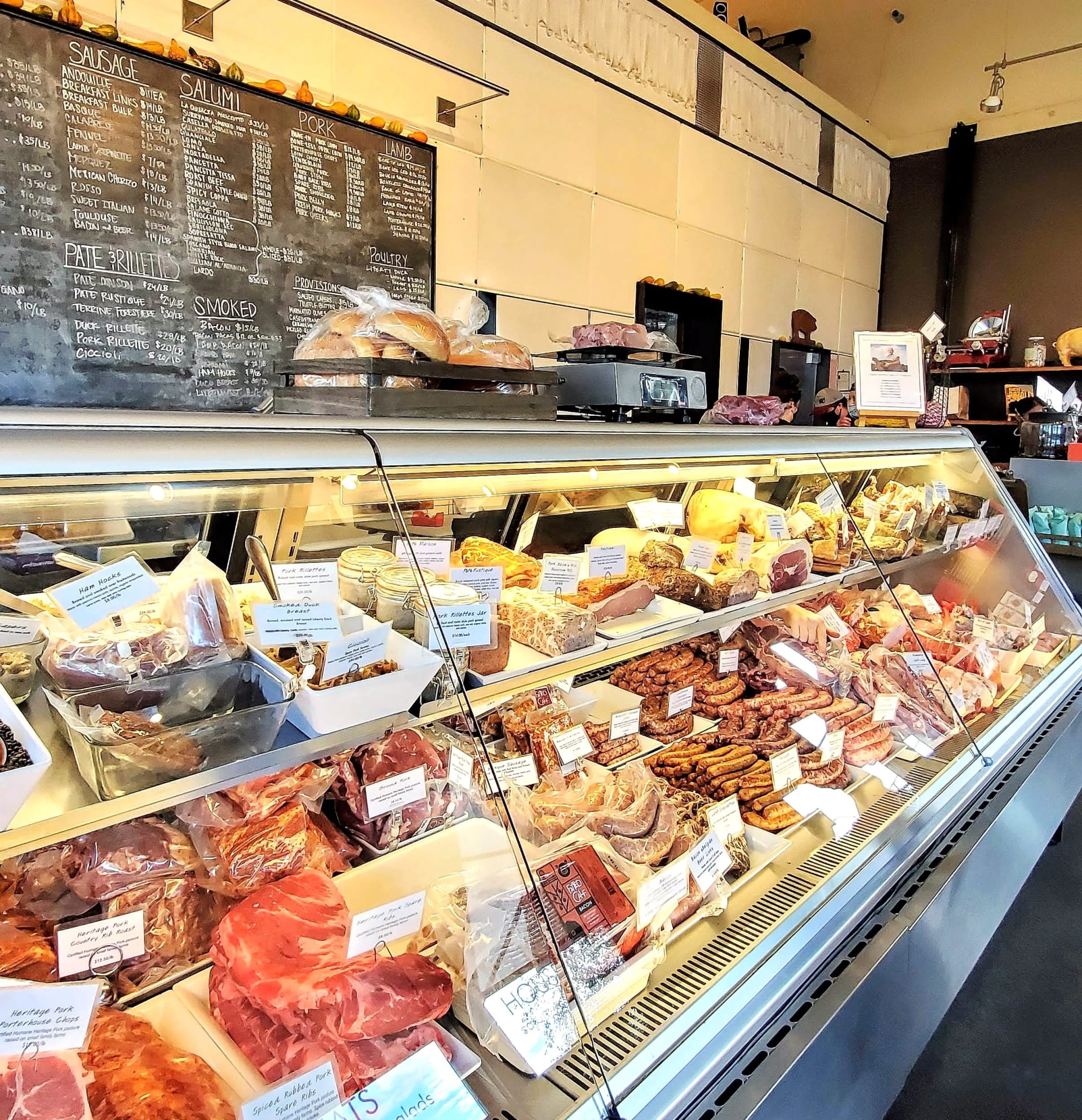 Not just for shopping, Napa's Oxbow Market houses a variety of stalls stocked with gourmet ingredients, interspersed with vendors serving you ready-to-eat delicacies.
What brings us to the Oxbow Market most frequently is The Fatted Calf (pictured above) which offers a delicious array of charcuterie and pasture raised butchered meats. Fatted Calf sources the best pigs and products because they care about the quality of life the animals receive. When you choose to shop at Fatted Calf you're voting for better quality of life for the animals, the farmer, and the communities surrounding them. In addition to exceptional meat the Fatted Calf also has a unique selection of artisanal food products hand selected for the shop such as Rancho Gordo beans and an assortment of vinegars, pastas and preserves. They also offer ready-made items such as Pozole and homemade stocks which serve as a great base to any home cooked meal.
Whole Spice is definitely next on the must stop list when shopping at Oxbow. Sourcing out the best spices from around the world, Whole Spice is a home chef's dream. From the usual to the exotic, allspice to vanilla and ajowan to zhug, Whole Spice also offers a broad scope of salts and mushroom powders. They also offer a selection of 50-60 custom spice blends which are great time savers in the kitchen. This is the place that makes our chili come to life, our Szechuan dishes sing and our schawarma dreams come true!
For steaks, Milestone Provisions is the place to go where Five Dot Ranch's beef is at the heart of the offerings. With its award-winning, natural, hormone and antibiotic-free beef in the meat case, they also offer meats from other producers including Don Watson Lamb, Petaluma Poultry, and more.
When craving seafood, Eiko's at Oxbow is a great option. Eiko's is a full-service seafood marketplace and sushi bar offering fresh seafood by the pound. They also have a small sit-down sushi bar and grab-and-go Japanese deli options. Sushi grade scallops, salmon and Ahi are common among their offerings as well as several varieties of homemade poke, which makes a great start to any meal.
The Oxbow Cheese & Wine Merchant is one of our go-to spots when we want to put together a beautiful cheese board for entertaining. After choosing from their curated selection of artisanal cheeses from around the world head over to the wine merchant to pick the perfect wine pairing. With a selection of olives, crackers, nuts and sweets, all you will need to complete the perfect spread for your guests are some salumis & pates from The Fatted Calf & a fresh baked baguette from The Model Bakery.
And, speaking of The Model Bakery, you really do not want to miss their world-class breads and baked goods, including their English muffin which has been featured on Food Network and as one of Oprah's Favorite Things several times.
Last, when we are looking for the perfect vegetable side for our steak dinner or some fresh fruit to accompany our charcuterie spread we head over to Hudson Greens & Goods where they specialize in locally sourced, organic fruits and vegetables, with an expanded selection of dry goods and household items. We are always sure to find some fun and exciting mushroom or green to titillate our creative palates.
Browns Valley Market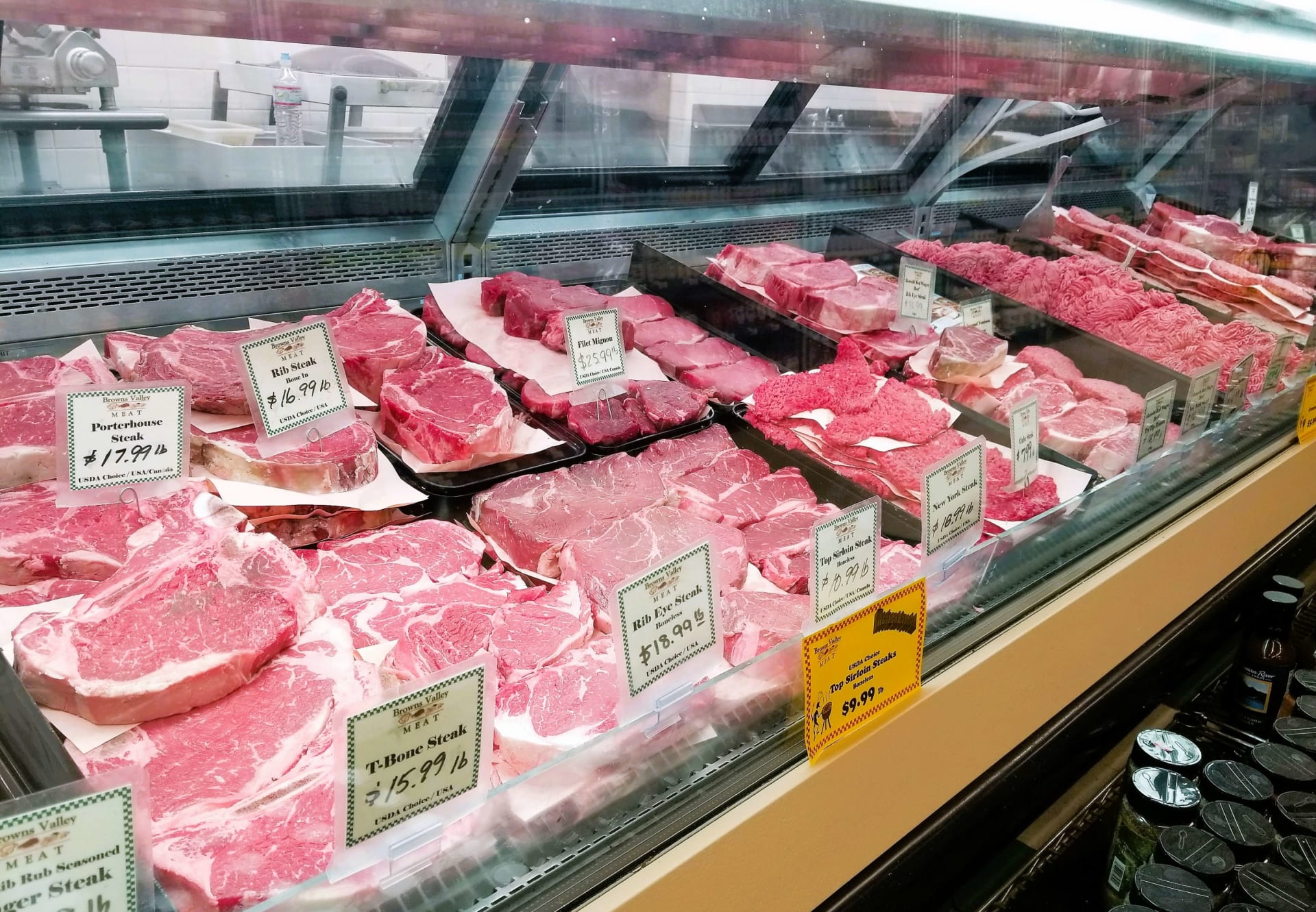 Tucked away in the quiet Browns Valley neighborhood in west Napa, Browns Valley Market is Napa Valley's go-to destination for high quality butchered meats. With an amazing selection of house made sausages, pre-marinated meats and steaks cut to order trust me, you will be happy that you found this place. Among our favorites are the pre-marinated wings, country bacon, Akaushi steaks and pre-made Brisket burgers and sliders but they will butcher anything for you as a custom order, even your own wild game or ranch animal. Come for the meat but stick around to shop their fresh, local produce, and a wide range of homemade deli items, including a fabulous cheese selection. This is the only market in town that I know to carry Thai chiles and Thai basil for those nights when a Thai craving hits and cheese curds for your homemade Poutine.
Whole Foods Market
Of course, everyone is probably familiar with Whole Foods which is a national chain known for specializing in organic foods and supporting sustainable agricultural methods. Napa's is located at the North end of Napa in the Bel Aire shopping center. In addition to providing a great selection of fresh seafood, meats and fresh produce, Whole Foods Market also has several stations that prepare fresh food to-go. The sushi counter prepares fresh sushi daily and the rolls are comparable to anything you would find in a restaurant. Located in the wine section, they also have Keg & Barrel which is a casual wine bar where you can enjoy beer or wine tastings. Other prepared food options include the Market Cocina, with Mexican selections, and the Deli where you can order custom made sandwiches or pizza by the slice. Lastly, WFM Coffee Bar is a full service coffee shop, brewing a variety of roasts and creating drinks made to order.
Osprey Seafood Market
Napa's premier destination for anything seafood Osprey has been around since 2002 and is Napa's favorite fish market. With a wide selection of fresh fish, including sushi grade cuts, this is our go-to spot when we are craving fresh sashimi at home. They also offer several house made items including a variety of pokes, house smoked gravlax, and several seafood salads and spreads. Other popular prepared items include their signature clam chowder and where else can you find your Cioppino base all ready to go?! When you are hosting Spanish tapas night at home you can find your Octopus and Salt Cod here for those quintessential dishes like Octopus salad and Bacalao. Oysters, caviar, clams, mussels, you name it and they have it. They even have Uni on occasion but it is best to ask them to pre-order it for you because when they do get it in it always sells out fast!
Napa Valley Olive Oil Manufacturing Company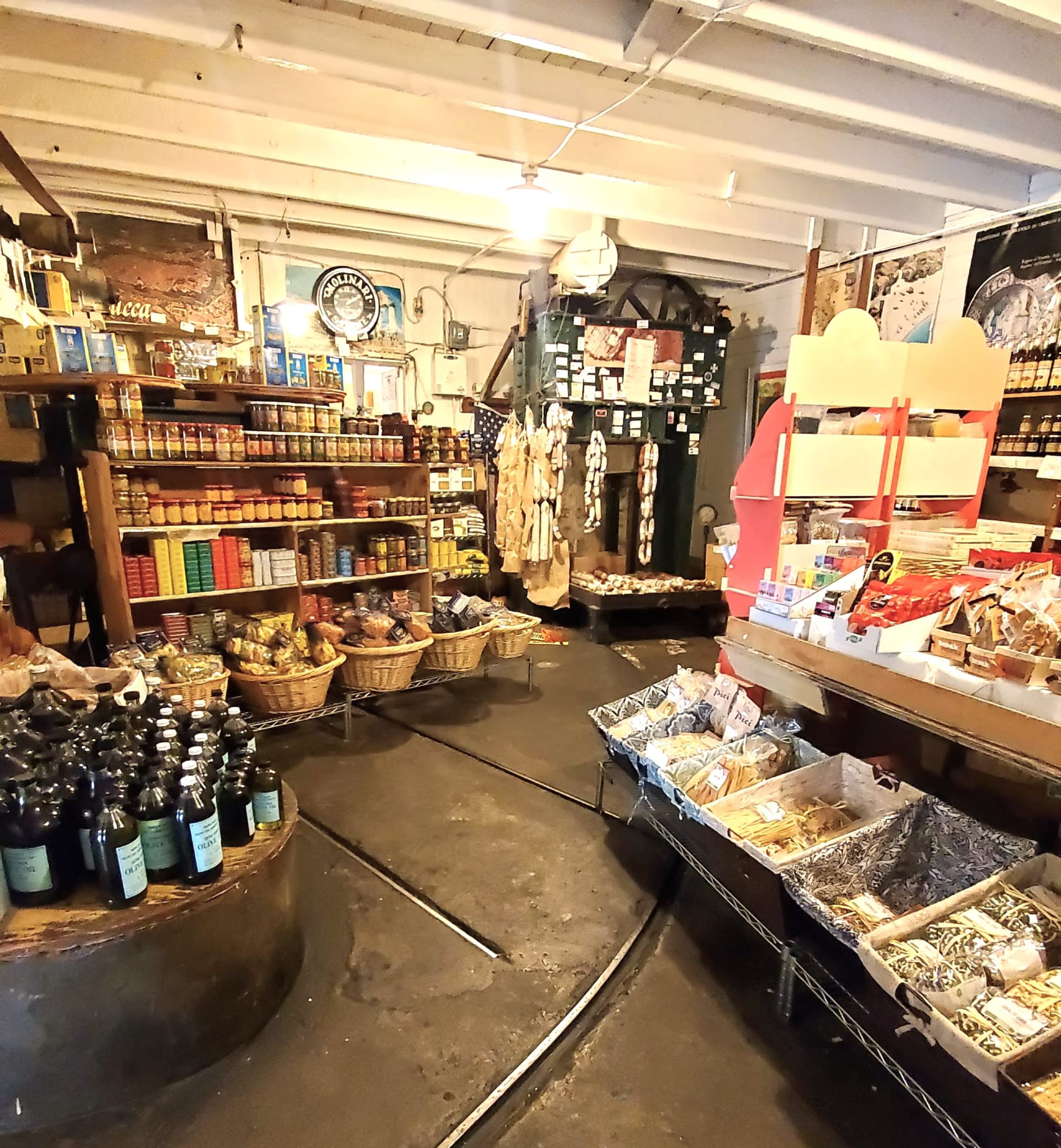 You will not be sorry that you found this quaint little Italian Grocery hidden away on a backstreet in St. Helena. Family owned and operated this artisanal market has been in business since 1931. Napa Valley Olive Oil Manufacturing Company provides locally grown and manufactured olive oil as well as prosciutto, salami, sausages, breads, cheeses, peppers, wine, and pastas imported from Italy. Aside from the olive oil, which is available for purchase by the jug, we come here specifically for the pre-grated bags of Parmesan and Romano cheese...an absolute pantry essential! It is so fun to peruse the selection of Italian goods and if you want to make a fun day of it grab a little salami and cheese and perhaps a little vino and sit out on one of their picnic tables to enjoy a beautiful Napa Valley afternoon.
Sunshine Market
St. Helena's gourmet market is Sunshine Market. Their cheese selection rivals anywhere in the Valley and their grab and go selection is perfect for nights when you don't feel like cooking. Fresh made sushi, cheese trays, pre-made sandwiches, soups, pre-packaged olives, deli salads, hot bar selections, an assortment of house made dips & dressings, bakery items & so much more. The meat department offers a large array of USDA Prime grade beef from the wonderful ranches of Country Natural Beef. A full selection of natural beef raised in an environmentally sustainable fashion with a husbandry that is second to none. Often times you can find Kobe and dry aged beef and they always have the ability to pre-order it for you. The seafood department is focused on sustainability, quality, selection and freshness and they have a wonderful selection of fresh and pre-marinated fish, including sushi grade cuts. We always seem to come across some great finds in the wine department as well probably due to the fact that this market is the go-to shopping destination for many of the Valley's top winemakers.
Napa Wild
Napa Wild is an online marketplace and one of my favorite places to shop for top quality produce and meats delivered directly to your home. Founded in 2017 by former chef Kory Stewart, they are committed to bringing the community extraordinary foods from local farms and forests. They support farmers and foragers that practice sustainable methods and offer a wonderful array of produce. Everything they offer is seasonal so their selections are always changing. They also offer gourmet food items that are absolute finds for foodies! Recently, this is where I have found finger limes, an amazing selection of both fresh and dried mushrooms, Liberty Duck, Koji Soy Sauce, Wolfe Ranch Quails and pretty much any produce you would need. Oh, and did I mention French Perigord Truffles? Yes, truffles delivered direct to your door and at a great price too!
Oakville Grocery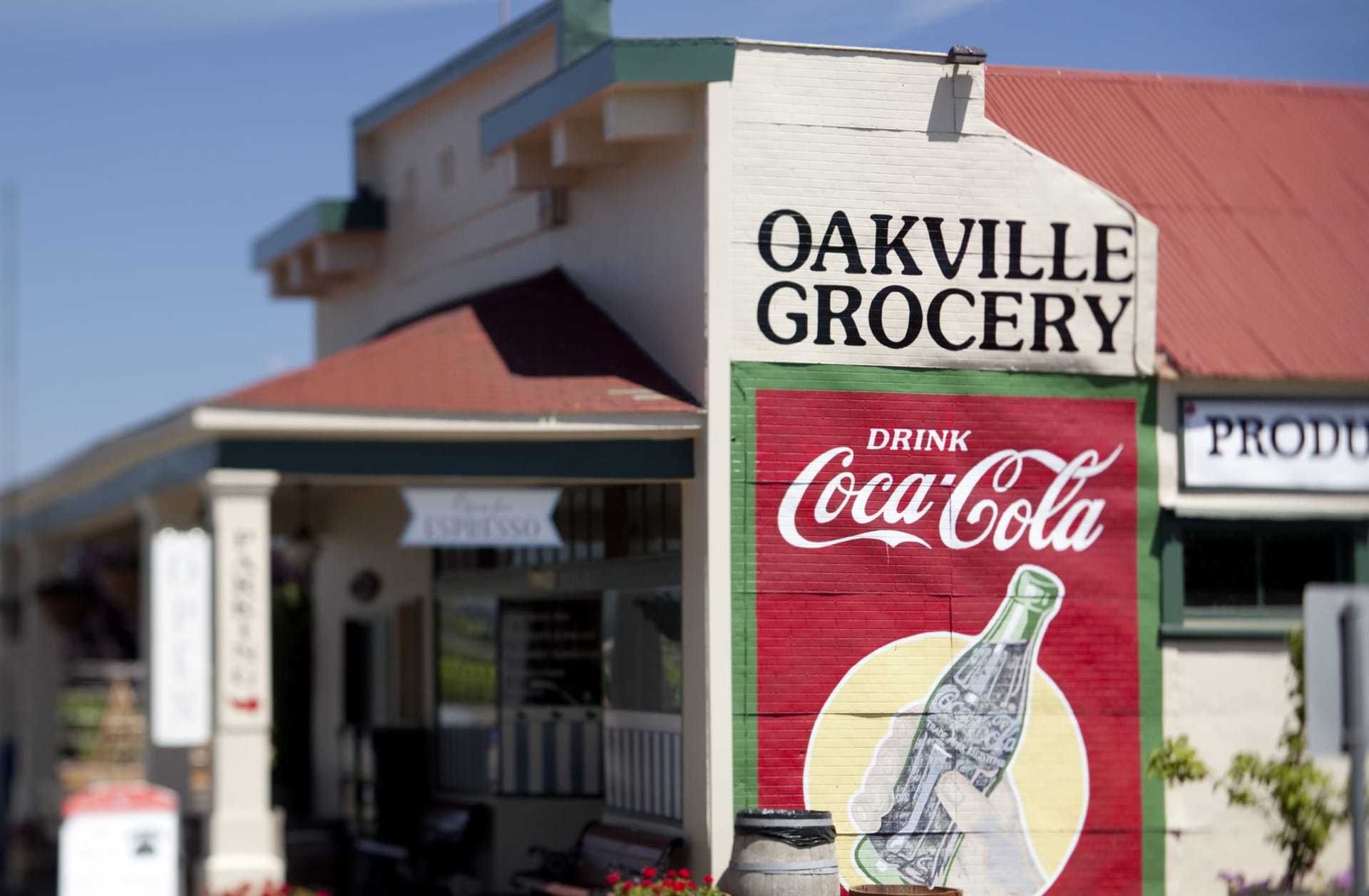 Definitely a spot that the tourists love to frequent, Oakville Grocery always seems to be bustling. This keeps us locals away most of the time but, when the opportunity strikes and we can actually find a parking spot it's a fun spot to check out and pick up some gourmet finds. The flagship store on Hwy 29 in Oakville is the oldest continuously operating grocery store in the state. Definitely known for their deli (my husband claims they make the best Muffaletta sandwich around) tourists flock here for their hearty sandwiches, house made salads, creamy dips, and perfect provisions for an afternoon in Wine Country. They also carry and a fun selection of curated mustards, olives, oils, jams, pickles, teas, spices and other foodie condiments and with a collection of cooking tools, glassware, towels and knives it is a great place to shop for gourmet gifts.
Trader Joe's
While not thought of necessarily as a big foodie destination, Trader Joe's does carry some unique items and we find ourselves there on a weekly basis. Located just a few doors down from Whole Foods in the Bel Aire plaza, Trader Joes is a popular spot among the locals. With their large selection of pre-made fresh and frozen foods it's a great spot to supplement those weeknight meals. In particular we like to go here for their pre-marinated chicken schawarma, their fresh pizza dough balls and the fresh foccacia bread which tastes like homemade. They have a great selection of cheeses and there are some great finds in the wine section as well where we seek out the very reasonably priced imports.
Gary's Wine & Marketplace
Fairly new to the Valley, in the former Dean & Deluca location, Gary's Wine & Marketplace is another spot for charcuterie, cheese, deli and artisanal grocery items. Following in the model of Dean & Deluca, they have a large wine selection accompanied by a variety of gourmet products available for purchase. The meat and cheese counter is what we come for and you can find a great selection of craft beers and refrigerated gourmet items as well. The deli sandwiches are delicious and they also have a coffee counter with great pastry selections. This is a great spot to visit when you want to throw together a fabulous cheese & charcuterie spread on a Friday night accompanied by a perfect bottle of wine to pair.
Genova Delicatessen
Last, but certainly not least, Genova is Napa's premier Italian delicatessen and where you can find authentic homemade pasta and sauces to cook at home. They specialize in old-world recipes handed down through the family & use the very best ingredients to create all of their products. Offering meat, cheese and turkey ravioli, fresh pasta, gnocchi, tortellini and companion sauces of meat, marinara, pesto, mushroom, alfredo and their very special Nonni Gravy. All of the products are available fresh or fresh frozen. Their selection of deli meats and salads is definitely the largest in Napa and they have wonderful prepared foods that are great to supplement a fun, gourmet "eat around". The zucchini and artichoke frittatas are one of our favorites along with the fried artichoke balls (for lack of a better name). I have also heard that their clam chowder is some of the best around, surprisingly, though I have not yet tried it. Soon...very soon.
So, those are my top shopping picks for the home chef living in the Napa Valley. Of course, don't forget about the Farmer's Market on Tuesdays and Saturdays where you will find some wonderful artisanal products for sale which will definitely compliment your home cooking adventures.
If you're looking to find your own piece of Napa Valley real estate, don't hesitate to reach out for more information. I would love to be your Napa Valley real estate agent and will personalize your shopping experience so that we can find you a place you'll love to live.